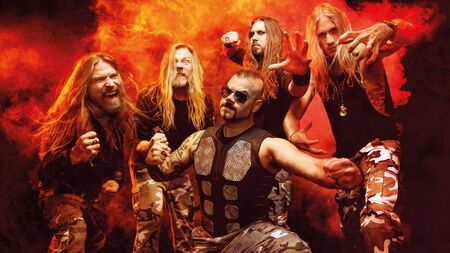 Sabaton is a heavy metal band with historical lyrics from Falun, Sweden, formed in 1999.
Biography
Since Sabaton's inception on the threshold of the 21st century, these fierce Swedes have been conquering battlefield after battlefield – of course, only those musical front lines - and along this intrepid path, Sabaton has practically done and seen it all within the realms of explosive heavy metal.
Over the past two-plus decades, Sabaton has played crowd-commanding headline shows at the largest European festivals, including 2012's Woodstock Festival Poland in front of a half-million devoted fans. The band has headlined and sold out concerts throughout Europe, in North and South America, Australia, and Asia, such as high-profile performances at the prestigious Japanese Loud Park Festival and Ozzfest USA. Of its nine-album discography, Sabaton has amassed an impressive pile of Gold and Platinum awards: six Gold and two Platinum albums - quadruple Platinum in the case of 2012's Carolus Rex - six Top 5 and five Top 10 albums internationally, a Grammy Award nomination as Hard Rock/Metal Band, five Metal Hammer/Golden Gods Awards including "Best Live Band" three different years, and is a five-time winner of Sweden's Bandit Rock Awards as Best Group (twice), Best Live Act (twice), and Best Album. Sabaton has also racked up more than two-billion streams across all streaming platforms.
Despite such unforgettable accomplishments, Sabaton has never been a troop that likes to dwell in the past. For this unstoppable heavy metal panzer, there has always been just one window of opportunity: to march fearlessly towards the next challenges.
In 2019, Sabaton reached its twentieth anniversary as a band and came up with a most appropriate way to celebrate that tremendous milestone, as well as simultaneously setting their targets on the future. Naturally, there was only one option: to unleash the ninth missile into the heart of the heavy metal world - a new concept record from the vaults of fascinating military history.
"The title of our new magnum opus is The Great War, and we couldn't be more satisfied with it," said Sabaton bassist and lyricist Pär Sundstöm, at the album's release. "Within its rich musical and lyrical journey, we dive into the gloomy and bloody atmosphere of World War I. This frantic war shook the whole planet during 1914-1918 and caused devastating consequences that still echo to this day. World War I was also supposed to be the war to end all the wars. Well, today, we unfortunately know little bit better..."
Those familiar with the epic sounds of Sabaton know that the band members are no strangers to a diverse and infectious style of heavy metal. The Great War took that to another level.
As the UK's Guardian wrote in its review of The Great War, "One can learn about a fascinating, if dark, period of history while unapologetically rocking out." America's Metal Injection wrote of the album that "...each new track erupts like a grenade, bringing the past hurtling into the present in a barrage of overwhelming symphonic firepower that's come to define Sabaton's sound over the past 20 years."
"The contrast between the brutality of merciless war and heroic sacrifices made by humans of many kinds is reflected on seminal tracks – both on compositions and lyrics," states Sundström.
Once again, Sabaton's musical rollercoaster has been masterminded by singer and lyricist Joakim Brodén, who explained, "'The Great War' is a 100% pure Sabaton album, but that being said, we're also taking the listener on a wild ride with severe twists and turns."
To support The Great War, Sabaton hit the road with "The Great Tour" beginning with a number of European festival appearances, including the band's 20-year anniversary headline spot on the holy grounds of Wacken Open Air. From there, the band headlined a North America run in the fall of 2019, then took "The Great Tour" throughout Europe, in January and February 2020, and then were off for a five-week tour of Russia and Belarus in March. Sabaton was able to play nine of those dates before COVID-19 forced them to cancel the rest of the shows.
In 2008, Sabaton hosted the first of its, now annual, three-day concert festival, the "Sabaton Open Air", at the Lugnet ski stadium in Sweden. The following year, the band launched its annual - and always sold out - Sabaton Cruise that sails out of Stockholm for epic sea adventures, rocking the ship with fellow metalheads, and lots of SABATON.  Twenty-nineteen saw the debut of the band's own YouTube channel, "Sabaton History Channel." The channel combines the power of YouTube, music and storytelling to dive into the true-life stories behind every Sabaton song, bringing history to life in an informative and entertaining way.  Sabaton's Pär Sundstöm and Joakim Brodén are joined by the renowned historian Indy Neidell, of "The Great War" and "WW Two in Real Time" fame.
Sabaton has put the "COVID downtime" to good use, writing, recording, and releasing a variety of stand-alone singles and music videos. The band played its first post-pandemic date on July 9, performing in front of 40,000 fans when they headlined the Exit Festival in Serbia. Sabaton was Special Guest on Judas Priest's 36-city, "50 Years of Metal" North American tour that began September 8 and had been scheduled to run through to November 5. Unfortunately, only 13 shows were performed before the tour was cut short due to a major medical heart issue with Judas Priest's guitarist Richie Faulkner. Sabaton will headline a 29-date tour of Sweden in January/February 2022, followed by the launch of the massive "The Tour To End All Tours" on March 4 in Norway.
Sabaton's tenth album, The War to End All Wars, will be released on March 4, 2022 (Nuclear Blast). Written and recorded in 2021 during the COVID global pandemic, the band has crafted a concept album of 11 brand new songs that dive deep into previously unexplored atrocities, miracles and events tied to the early 20th century's World War I.
With the release of The War to End All Wars, fans can expect a wealth of single releases, each one accompanied by a compelling and emotional music video that will breathe life into the fact-based story behind the song.  In addition, the album will be available in an impressive variety of exclusive formats,** including CD, vinyl, and cassette, most available in limited editions, both in terms of quantities available and by territory.  With the addition of Sabaton's global touring schedule,  look for The War To End All Wars to have a multi-year cycle.
Current members
Past members
Richard Larsson

— drums (1999–2001)

Oskar Montelius

— lead/rhythm guitar, backing vocals (1999 – 2012)

Rikard Sundén

— rhythm/lead guitar, backing vocals (1999 – 2012)

Daniel Mullback

— drums, percussion, backing vocals (2001 – 2012)

Daniel Mÿhr

— keyboards, backing vocals (2005 – 2012)

Robban Bäck

— drums (2012 – 2013)

Thobbe Englund

- guitars, backing vocals (2012 - 2016)
Past live musicians
Frédéric Leclercq — rhythm guitar (2011; replaced Sundén due to his paternity leave and Rockstad:Falun 2011)
Udo Dirkschneider — additional vocals (2011; Rockstad:Falun 2011)
Chris Boltendahl — additional vocals (2011; Rockstad:Falun 2011)
Van Canto — backing vocals (2011; Rockstad:Falun 2011)
Snowy Shaw - drums (2012-2013; replaced Bäck due to his paternity leave)